Join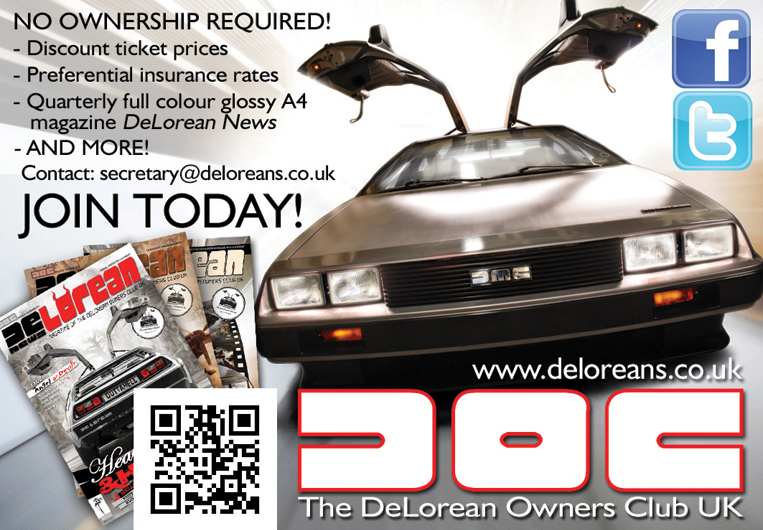 On behalf of the DeLorean Owners Club (UK), thank you for your interest in this website. The DOC-UK is the only accredited DeLorean Owners Club in the UK, and you are more than welcome to join and receive our quarterly magazine as well as show discounts and other freebies.
You do not have to own a DeLorean to become a club member!

The annual membership fee is £27.50 for UK citizens (this includes the latest 2 magazines upon joining), and £37.50 for overseas members. (+ £1.00 PayPal fee)
If you would like the latest issue of the club magazine, plus five back issues, it's just £37.50 (£47.50 for overseas members) initial payment, then £27.50 per annum thereafter (£37.50 for overseas members). (+ £1.00 PayPal fee)
With your membership you get a membership card, car sticker, club key ring and other free gifts. As well as the 2 latest A4 colour quarterly magazines (DeLorean News) as well as additional news letters that bring you up to date on the club activities. Also, as a DOC-UK member, you receive preferential rates on classic car insurance, lists of parts suppliers and full access to the club forum which includes general chit chat, how to's, cross reference information, event listings and so much more.
You also get an up-to-date list of cars for sale. Expect to see prices of £28k-£40k for a 'standard' running example, with better condition cars over 35k. Rare right-hand-drive converted cars and other special versions tend to start at around £40k.
OR download our  ApplicationForMembership2016  and email or post to the Club Secretary (address at top of form)
For more information contact secretary[@]deloreans.co.uk