DeLoreans For Sale
For Sale:
Freshly painted bumpers since the pictures were taken and is in the process of having the binnacle, A pillar trims and roof panels recovered with the original cloth he got from Dave Howarth. It is an auto VIN number 3428 and MOT is until June 10th. The car is located in Southport Lancashire. For anymore info its probably best to call Richard 07975 755487.  open to (sensible!) offers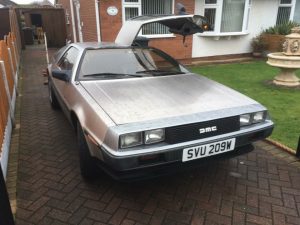 Delorean For Sale
1981 Vin:1399
LHD
14k miles
Imported with full U.K. Mot
Car is near Leeds
£35,000 (ONO)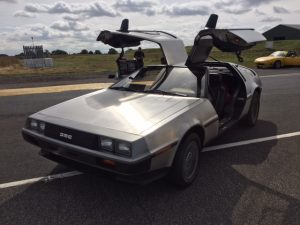 Email: darrensmith100(at)hotmail.com
SOLD
For Sale:
Recently imported from Texas, non running and needs some work, very good dry state car non UK registered (all import duties paid) Offers in region of £20,000 (very close offers) Located in Nottinghamshire. Seller does not wished to be hounded with tyre kickers and the like so please in first instance contact; Chris Williams (club secretary)
All DeLoreans for sale in the UK. A complete list of all known DeLorean cars for sale in the UK. We happily advertise DeLoreans for sale both worldwide and for DeLoreans for sale in the UK and we can help and advise on valuations. Get in touch if you are selling yours and we will help give it a loving send-off. If you are looking for a DeLorean and we have nothing advertised, the best thing is to join the free DOC Forum and post a message to let people know you are looking. Then you will find advice from those in-the-know, and anyone who knows of DeLoreans for sale. Lots of these cars change hands simply through 'word of mouth' and most are advertised in the club magazine and never get near the internet. For information on importing a DeLorean from the USA, read this page. If you wish to contact any of the club committee, got to our Contacts page. We recommend that all who acquire or are looking to acquire a DeLorean consider joining the UK owners club. This is the only fully active, accredited owners club in the UK, existing solely for the love of the DeLorean automobile and to proactively support all owners/custodians. You can be involved as much or as little as you like, but we regularly meet all round the country and can offer technical support – there is a warm welcome to any DeLorean owner/prospective owner. As a member you also receive preferential insurance rates from various providers, and discounted show tickets etc, as well as the quarterly club magazine.