DeLoreans For Sale
For sale: (SOLD) Vin 10989 December '81, £30,000
Grey Manual 50,250 miles (plus miles I put on now) Full MOT
The car starts first time, idles nicely and the fans kick in / turn off when they should.
The car runs, drives and changes gears as it should.
The frame / chassis is clean No dents/dings
No big panel gaps
Original working radio with good condition seats and  interior
usual upgrades and a stage 1 performance upgrade
Only real not so good thing is a crack in the binnacle.
Photos to follow, please contact Chris Williams for sellers details.
The car is in Grimsby, Lincolnshire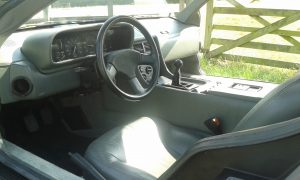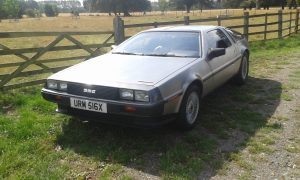 For Sale: SOLD
VIN #5294, Grey-Auto. Imported in 2017, lots of work done, solid underneath, MOT'd and ready to register. Offers around £35,000 Contact Chris J on: 07774 8***55 (Cheshire)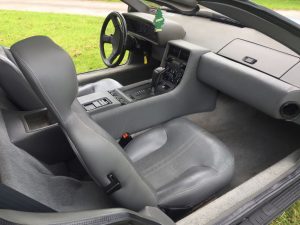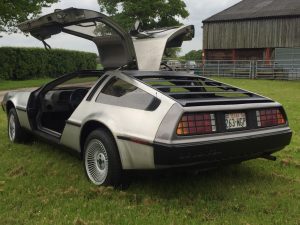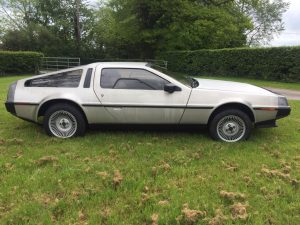 For Sale  (SOLD) #VIN 11747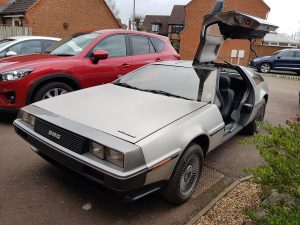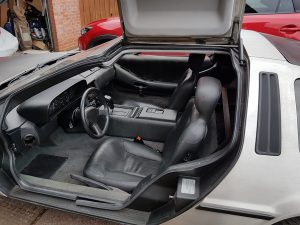 Delorean DMC12
23,000 km. LHD. Black interior. January 1982. MOT until: Feb 2019
I acquired the car in 1987 in Kuwait. It was imported into the UK in 1988 and then kept at Coventry Transport Museum from early 1990 until early 2018. In 2016 and 2017 it was extensively restored with many new parts including the following work:
Reinstatement of the indicator/wiper stalks on the steering column & steering column shroud. New indicator/wiper stalk.
Replacement of fuel pump
Replacement of O/SF side indicator lens. Replacement of N/S/R marker light on corner. Replacement of RH Door Marker Lights all including gaskets
Replacement of air filter housing
Replacement of brake pipes and reconditioning of brake master cylinder
Fixing of horn
Correction of engine spluttering. Repair of air intake housing
Repairs to seat
Replacement of perished hosing
Replacement of door and roof headlining
Cooling system completely dismantled for cleaning out of sludge and corrosion from pipes to radiator at front of vehicle.
Radiator flushed out and fans checked for function
Water pump removed and cleaned. Bearings and seal all in good condition. Refitted with new gasket.
Core plugs in cylinder heads replaced with new
Fuel system flushed, injectors cleaned and refitted
Fuel injection system & metering unit removed, cleaned & checked for correct function.
Replacement speedo cable
All 4 brake callipers dismantled, cleaned and re-assembled with new seal kits One new piston fitted. Handbrake callipers self adjust mechanisms dismantled, cleaned and re-assembled to overcome seizure.
New brake pads and fitting kits installed all round
New spark plugs
Asbestos heat shield treated
Replacement passenger door gas strut
Replacement louvre gas struts
New battery
For purposes of keeping the vehicle's heritage all old parts have been retained.
The vehicle comes with original owners manual, pre-delivery inspection sheet, New Vehicle Warranty card, 1981 Vehicles Maintenance Schedule/Record in original vinyl wallet, photocopy of complete workshop manual.
Vehicle is now  MOT'd and UK registered.
£35,000
Contact: secretary (at) deloreans.co.uk or Happy to include my mobile (Tony) 07968 582 *** (Bucks)
SOLD    For Sale: Black Interior, 5 Speed. WGD 251W
This has been my pride and joy for the last 4 years and sadly it's time to fulfil someone else's dream.
It's the 1981 flap & groove model Vin 1373
It has over 30 years of reciepts and history including the sales certificate when it was purchased by William Fairchild in 1981.
It comes with the original vehicle parts manuals and service books.
The car has its 2 original DMC floor mats and spare wheel and tool kit
I've replaced the brakes with new pads/discs and replaced the brake lines with stainless steel ones.
The wheels have been completely refurbished and the front and rear plastics re-sprayed
All new fuses and relays have been fitted and a full service has just been done. MOT'd till June 2018
£34995
07816*******
k.murray999 (at) ********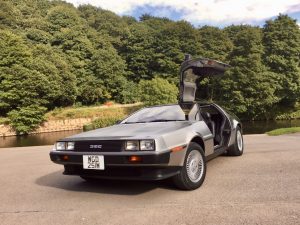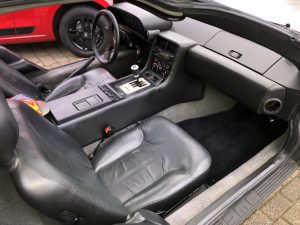 For Sale: SOLD
Freshly painted bumpers since the pictures were taken and is in the process of having the binnacle, A pillar trims and roof panels recovered with the original cloth he got from Dave Howarth. It is an auto VIN number 3428 and MOT is until June 10th. The car is located in Southport Lancashire. For anymore info its probably best to call Richard 07975 xxxxxxx.  open to (sensible!) offers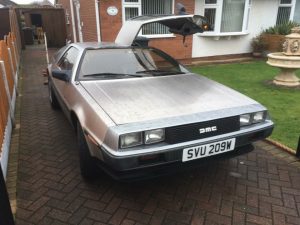 Delorean For Sale
1981 Vin:1399
LHD
14k miles
Imported with full U.K. Mot
Car is near Leeds
£35,000 (ONO)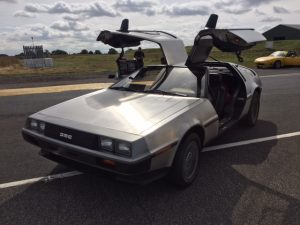 Email: darrensmith100(at)hotmail.com
SOLD
For Sale:
Recently imported from Texas, non running and needs some work, very good dry state car non UK registered (all import duties paid) Offers in region of £20,000 (very close offers) Located in Nottinghamshire. Seller does not wished to be hounded with tyre kickers and the like so please in first instance contact; Chris Williams (club secretary)
All DeLoreans for sale in the UK. A complete list of all known DeLorean cars for sale in the UK. We happily advertise DeLoreans for sale both worldwide and for DeLoreans for sale in the UK and we can help and advise on valuations. Get in touch if you are selling yours and we will help give it a loving send-off. If you are looking for a DeLorean and we have nothing advertised, the best thing is to join the free DOC Forum and post a message to let people know you are looking. Then you will find advice from those in-the-know, and anyone who knows of DeLoreans for sale. Lots of these cars change hands simply through 'word of mouth' and most are advertised in the club magazine and never get near the internet. For information on importing a DeLorean from the USA, read this page. If you wish to contact any of the club committee, got to our Contacts page. We recommend that all who acquire or are looking to acquire a DeLorean consider joining the UK owners club. This is the only fully active, accredited owners club in the UK, existing solely for the love of the DeLorean automobile and to proactively support all owners/custodians. You can be involved as much or as little as you like, but we regularly meet all round the country and can offer technical support – there is a warm welcome to any DeLorean owner/prospective owner. As a member you also receive preferential insurance rates from various providers, and discounted show tickets etc, as well as the quarterly club magazine.