History of DMCL
A brief look at the rise and fall of the company, by Chris Parnham, Club Historian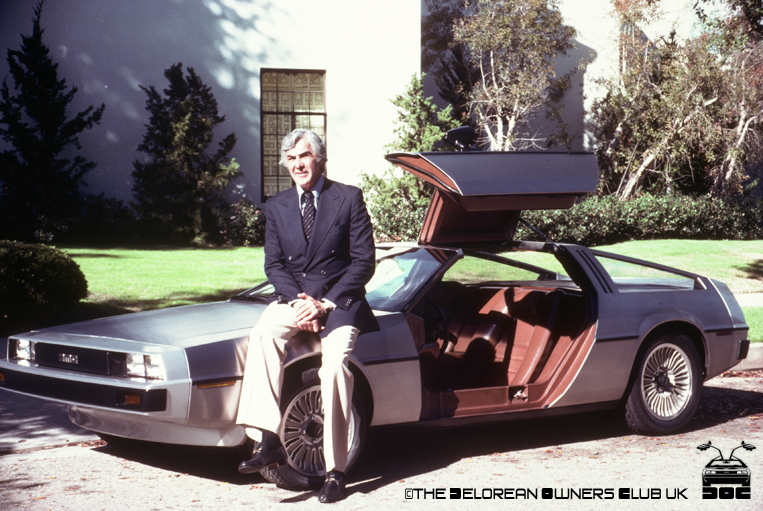 The DeLorean Sports Car deservedly has a lengthy chapter all to itself in most reviews of automotive history, an amazing achievement for a car which few people have ever actually seen in the flesh (or Stainless Steel), let alone owned.
The DMC-12, is an example of a dream gone horribly wrong. Its story involves financial chicanery and mismanagement, British government embarrassment, broken employment dreams for thousands of workers in Dunmurry, FBI entrapment and the downfall of one of America's brightest and most controversial engineers.
Only about 9,000 DMC-12s were ever built, with all but a handful shipped to the USA. The cars striking Giorgetto Giugiaro design and its stainless steel body panels and gull-wing doors, supported on a glass-fibre underbody and Lotus designed Y backbone chassis. The whole project was the brainchild of one man, former Senior Vice President of General Motors, turned entrepreneur, John Z DeLorean.
John Zachary DeLorean left GM in 1972 (the full circumstances have never been fully explained by either party) with a stated wish to build an "ethical sports car".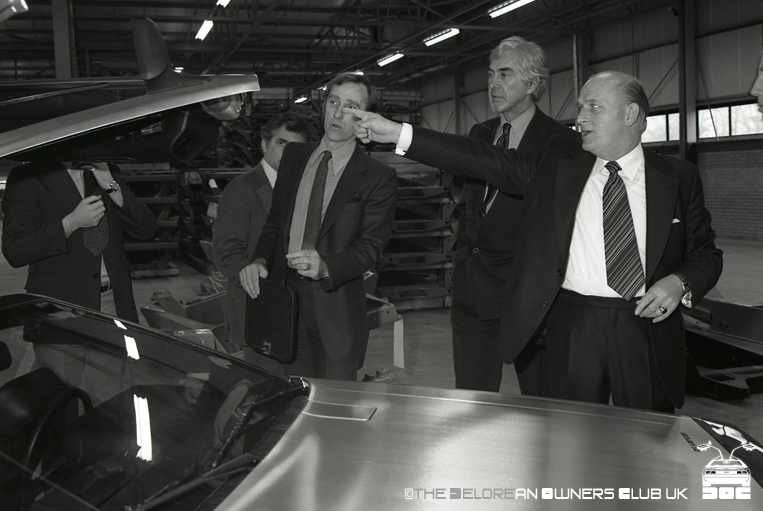 In 1975 the DeLorean Motor Company was formed and JZD gained sufficient support and financial backing to have two prototype cars made. Later he looked for a place to build his dream car. After looking at sites throughout the world, in 1978, JZD finally decided on Dunmurry, just outside Belfast. A deal was signed with the Northern Ireland Development Agency, who made large grants available, to anyone brave enough to try and provide jobs in Northern Ireland, during the height of "The troubles". This money was provided by and underwritten by, the then Labour, British government.
DeLorean assembled a skilled team of experienced Motor engineers, many from the UK arm of GM and some from the USA and other car companies. While the Dunmurry factory was being constructed, DeLorean struck a deal with Colin Chapman of Lotus Cars, to re-engineer the proto-type cars, for mass production. Everything eventually came together in January 1981, when the first "Belfast built" production car (vin 501) came off the line.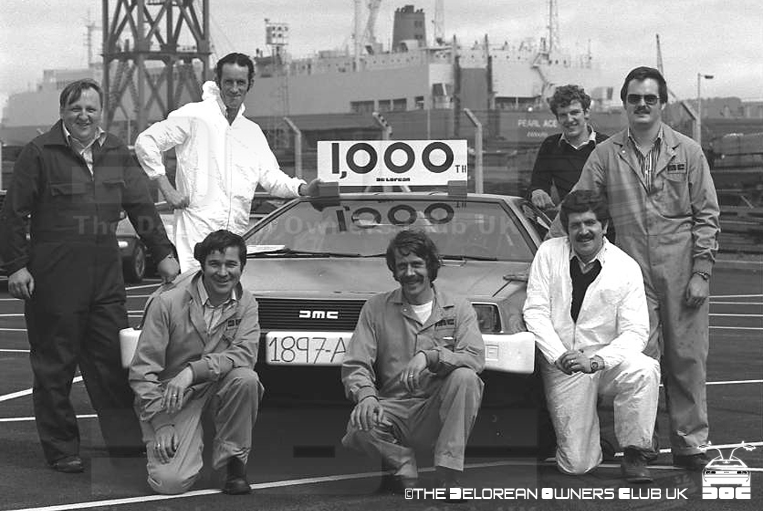 All seemed fine for a few months, with shipments of cars sent to America, where they were eagerly awaited by the dealers and customers alike. Even the motoring press initially gave them a warm reception. However by the summer of 1981 some quality issues were noted and received a bad press and as America was heading into a recession, together with the worst winter weather on record! Who wanted to buy an expensive 2 seater sports car in such circumstances? Not many! With hundreds of unsold cars stacked up on both sides of the Atlantic, awaiting buyers, the only logical thing to do was to drastically cut production, but DeLorean gambled that if he kept the employment/ production rates up, the British Government would not dare refuse him yet more money to carry on. Unfortunately he had not reckoned with the "Iron Lady", Margaret Thatcher, who had recently taken power in Downing Street and she had enough financial black holes of her own to try and contend without, signing more blank cheques for DeLorean!
1982, The factory went into receivership, but the receivers were very hopeful that the business could be salvaged, albeit on a smaller scale. DeLorean himself went on a whirlwind world tour desperately trying to raise the necessary funds. He kept indicating that a new deal was about to be concluded, but the money never materialised. Eventually a group of former senior factory Managers, headed by Barrie Wills and Chuck Bennington, got a deal together that would save the factory.
It involved buying out the rights to the ailing TR7/ 8 and building a re-designed version alongside the Gull winged car in Dunmurry. The only remaining issue was would John DeLorean let them use the DeLorean name for both cars? If not, the team had already secured the rights to the "Healey" brand name (an old respected British Sports car) and it would afterwards be the "Healey convertible" and the "Healey Gull- wing". All the contracts were ready to sign; the money and backers were in place….they were all sitting around awaiting a promised phone call from John DeLorean with his decision about using his name.
What they in got instead, was a shaky black and white TV image of John DeLorean, in a Hotel bedroom, comparing a suitcase full of cocaine to gold and toasting all those present for all the phone calls and making it all possible! Then the FBI walked in and arrested him!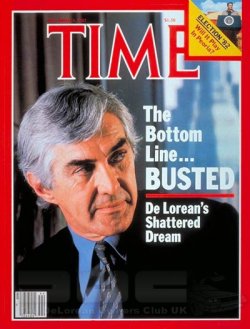 That was it!!, The end of the dream!!
DeLorean was arrested for, allegedly taking part in a multi-million dollar cocaine deal to rescue the company.
He was…eventually acquitted, because of "entrapment", but it was much too late, the damage was done. The money men had already walked away, the factory was liquidated, the dream had ended.
We are left with about 8000 cars, some of whom later stared in the 3 blockbuster, "Back to the Future films". This has ensured a constant supply of, young enthusiast, keen to learn more about this fascinating car! Live the Dream!