---
Tip For Rear Speakers - Pilot25dmc - 28 Jul 2006

Hi everyone

I wanted to replace the rear speakers on my car as they where shot but did not fancy ripping off the plastic cover as I have heard that its a nightmare.

I wanted a way of getting a new set in that did not involve taking this panel off and also did not mean cutting any holes in the car.

If you take off the two wooden boards that cover the fuse box and the engine ECU you can feel under the panel that covers the rear speakers. You can feel speaker wire and if you want to you can pull this wire on both sides and it will pop of the speaker and you can then feed the wire out from under the cover. I managed to pull out about 4 feet of the stuff from both sides!!

This gave me with two options.

1.) make a new rear bulkhead board that I could mount a set of speakers.
2.) make something totaly different.

I went with the later option of making something totaly different and this is what I did.

I bought a pieced of MDF and using the piece of carpet that covers the rear deck as a template I cut the wood to this shape. I bought a 10cm hole cutter and cut two holes in it. I then bought a length of dark grey acoustic carpet and stuck it to the wood and stapled it at the back.

I bought a set of 10cm Kenwood 100watt speakers and mounted them in the two holes I had cut.

Now I suppose you are thinking that the board I have cut is now going to lie flat on the rear parcel shelf and the speakers are going to lift it up so that it sites above the lip, I knew this would happen and purposly made the board 1.5" longer than the old carpet was, this way when I put the board in the car it stuck about 3" up from the base of the parcel shelf giving the speakers loads of room and directing the sound more at the back of the drivers head. This also meant that the rear shelf can still be used to store stuff.

The shelf works perfectly and the board hides the speaker wire underneath and I can remove the board at anytime and return the car to stock. I will take some pictures of the board and you can see for yourself that it was a cheap and easy way of getting some decent sound in the car.


---
- Pilot25dmc - 29 Jul 2006

Took some photos of the speakers.....


---
- MikeH - 29 Jul 2006

looks really good, ill deffo remember this idea for when i get a D.


---
- dmc-012 - 01 May 2007

Hi,

I've 'modified' my 1981 Delorean aswell. It features now a 5000 w RMS soundsystem from Rockford Fosgate. I will post pictures soon. But here's a small list:

1 Alpine DVD player DVA9861Ri
1 Alpine 7'' screen TME M780

1 set Rockford Fosgate T1T
4 sets Rockford Fosgate T142C
1 set Rockford Fosgate T162S
4 Rockford Fosgate subwoofers T110D4

1 amplifier Rockford Fosgate T40001
1 amplifier Rockford Fosgate T8002
1 amplifier Rockford Fosgate T4004

3 Optima Yellow Gel Battery 2400 amps total
1 Capacitor 8 farad
1 Caliber PR100

At the moment I'm planning an additional video installation of 4 x 17'' lcd screens. They will be driven by a 2x2 videowall converter. All parts have been ordered except for the screens. I'm still negotiating for those screens.

The soundsystem will be finished on may 5th 2007. The screens will follow as soon as possible.


---
- bozzzydmc - 02 May 2007

Sounds great !

Look forward to seeing your pics.

Are you coming over to our Eurotec event in June BTW ?


---
- dmc-012 - 02 May 2007

I had plans to attend Eurotec, but I had to cancell my trip.

I'm working on those pictures, they will follow asap.


---
- bozzzydmc - 04 May 2007

Posted on Behalf of Laurent Wery (dmc-012)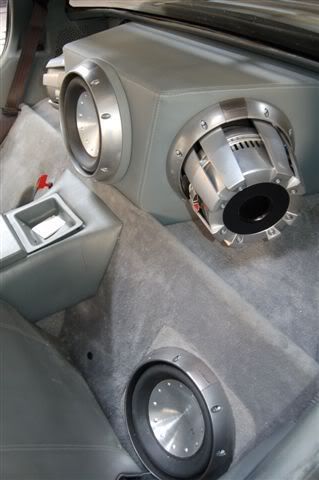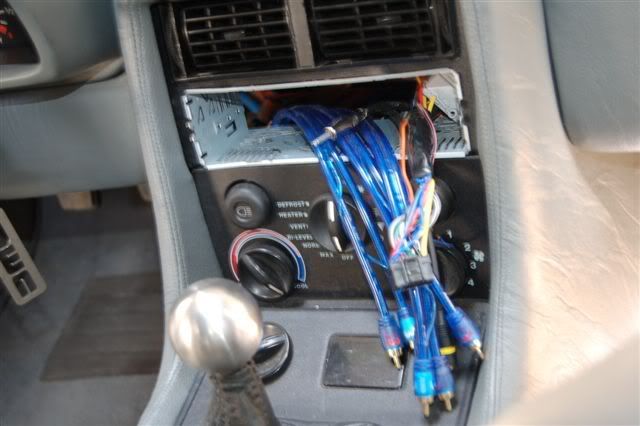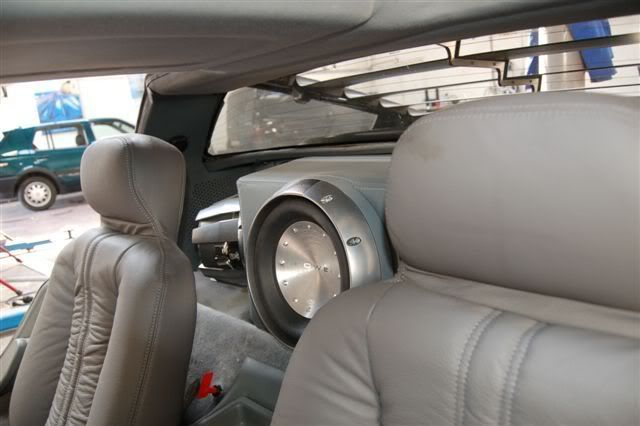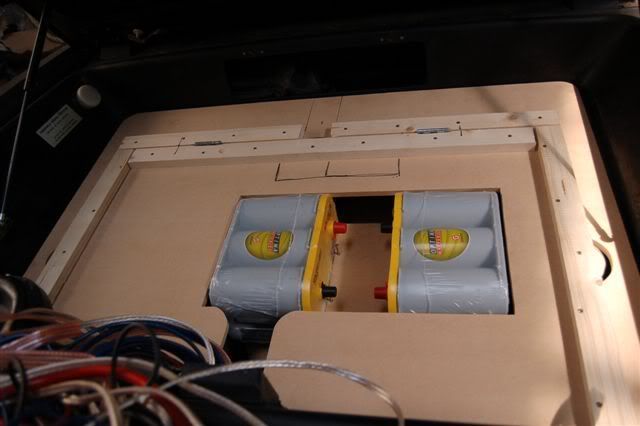 ---
- dmc-012 - 05 May 2007

Thanks for posting those pictures. The soundsystem should be playing today.
Still to do: refurbishing the doors + installment of the last set of speakers in the doors.
Casing and mounting the 7'' screen above the radio.
Mounting 4 x 17'' lcd screens in videowall mode in trunk.


---
- Daniel Shane - 05 May 2007

Hi Laurent

That is an insane sound system to fit in a D but it looks great. I hope you have a good alternator fitted.

I remember your car from Eurofest last year. It was the one with an exhaust that was as loud as mine



Dan


---
- Glen & Sam - 05 May 2007

louder than your dan my god i can not amange to think

---
- dmc-012 - 05 May 2007

Well, it's a new 115 amps alternator. We will see what happens. If necessary we go for a new rewinding.

I remember you too Dan. Your exhaust is a little bit louder tho.


We also talked about my stage 2 engine, remember?

DMCDJ - are you also a deejay? I'm a fulltime deejay working in alot of Belgian and Dutch clubs. I also love blowing up speakers.



I'll try to post new pictures on sunday. The amplifiers are now installed!


---
- Glen & Sam - 05 May 2007

hi

part time dj i done a lot of lighting in clubs and big raes working for martin lighting and JBL sound but looks like i have to get the old cd players but a lot of lighting and sound for the euro gig so please try and come and see me make a monkey of my self


---
- dmc-012 - 05 May 2007

I used to import Abstract and NJD to Belgium. But that's a decade ago. I also sold alot of Martin equipment to clubs... But again, that's ancient history. I'll try to come and check your work when i get to England.

Well, the system plays. There's a positive and a negative side on the story.

Positive side: The amps are on 1/4 of their normal power. Batteries are low. The speakers have to be played for several hours on a 'lower' volume. Tomorrow we gonna turn up the system. That will happen on a large carmeeting. I bet that will attract alot of people. About the sound, well, it sounds clear, crisp and you can hear it has enough power to boost more sound through those speakers. The bass pounds right into your chest and you can feel your hair moving. Sounds promising for tomorrow.

Bad news: I used the old speakerwires to the back. One side plays at 50% (very strange) and the other side doesn't play at all. So the rear interior sides have to come off again. I hate that part.


---
- dmc-012 - 08 May 2007

Hi,

The system is up and running. All problems have been solved so far.
Next are the doors and the screens.


---
- Tourettes Tony - 08 May 2007

oh well i will have to stick with my £170 set up



TT (tight tony)


---