---
New Stainless Exhaust System (PICS) - Pilot25dmc - 31 Jul 2006

Hi Everyone

After 4 weeks of waiting my new fully Stainless Steel exhaust system arrived.

As you can see it is rather nice.....




I went for a system that did not have any CAT's as it is legal in Northern Ireland to drive a pre 91' car without a CAT, although you can also get this system with CAT's. As you can see it was very well made and includes this nice screw insert for the Lambda Sensor, this system also removes the restrictive cross-over pipe and free's up alot more horse power.....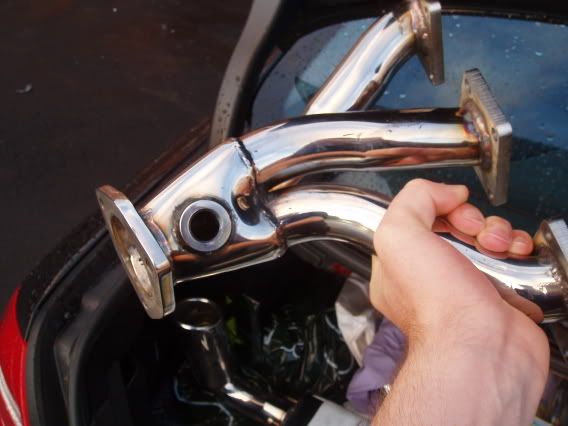 I went for the semi loud system, they do two others, quiet and loud, I have heard the loud and it is way over the top. Again look at the quality of the workmanship on the tailpipes.....




It was made for me by a company in England called Stainless Exhaust Specialists, you can find more about them and their Delorean system at
www.stainless-exhaust.com

Hope you like the pictures, there will be more when I get it all fitted in a week or so.


---
- NickT - 31 Jul 2006

Nice, there is nothing sexier than a shiny bit of metal ready to be put on the motor 8)

Ok, 2 shiny bits of metal !

NickT.


---
- bozzzydmc - 31 Jul 2006

I will soon be the only one without a shiny new exhaust



I hope the 'Exhaust Fairy' comes to my garage soon.

Let us know how the install goes, and at least you have lots of stud holes to play with when all of yours shear off




Good choice with the medium loudness backbox

still ive yet to hear the quiet one they make ... i wonder why??

---
- Daniel Shane - 31 Jul 2006

Alistair, what do you mean the loud one is way over the top, who's did you hear to give you that impression ?



I know chrispy was the quite one on his 83 car and that it sounds almost the same as the mild one.


---
- dmcdj - 12 Sep 2006

hi all

if anyone has a old system off there d as i,m looking for one until i can aford a stainless one let me know and i will might part some money



o.s how much did that system cost al


---